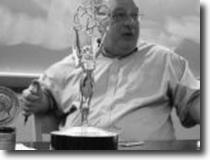 (Immagine per gentile concessione di
Rider University News)
William Mastrosimone
William Mastrosimone drammaturgo americano, nasce nel New Jersey il 19 agosto 1947.
Ha frequentato le superiori presso la Pennington School conseguendo poi una laurea in sceneggiatura presso la Mason Gross School of the Arts, ramo della Rutgers University.
Mastrosimone vince ben due Emmy per Bang! Bang! You're Dead!, scritta appositamente per i gruppi teatrali scolastici. L'autore decide di mettere a disposizione l'opera gratuitamente su internet e così in soli due anni, viene rappresentata più di 25.000 volte! Fu tanto il successo che Mastrosimone ne fa un adattamento televisivo.
L'ispirazione gli viene da una esperienza personale: un giorno, nel 1998, il figlio adolescente torna da scuola e racconta ai genitori che un suo compagno di scuola ha minacciato di sparare sulla classe.
In città si scatenò il panico – racconta Mastrosimone – Era una piccola cittadina tra le montagne; non esisteva la criminalità. Quella notte scrissi la piece. Avevo già in mente tutto: trama e personaggi. In poche settimane era finita.
Ecco dove Mastrosimone prende la maggiorparte della sua ispirazione: dalle esperienze, dalle conversazioni e dalle persone che incontra.
Ma prima di vincere gli Emmy, prima del successo, Mastrosimone era stato uno studente della Tulane University, che sognava di fare lo scrittore. Dopo aver frequentato due corsi di sceneggiatura a Tulane e essere stato bocciato tutte e due le volte, il giovane William decide di cambiare facoltà e approccio alla scrittura. Si iscrive all'università di Rider, dove riesce a conseguire la laurea di primo livello che gli permette di guadagnarsi la specializzazione presso la Rutgers University. Qui, scrive la sua prima opera maggiore, The Woolgatherer. Un produttore di Broadway vede la messa in scena presso l'università e decide di portarla a New York City.
E così ebbe inizio la mia carriera. – racconta Mastrosimone – Per me, è tutto collegato: Rider, Rutgers, New York.
Ma non tutti i suoi lavori gli hanno lasciato dei beri ricordi. Come nel caso della sceneggiatura di With Honor, a film che aveva come protagonista Joe Pesci. Il risultato finale è talmente deludente da spingere l'autore ad abbandonare la produzione.
Da sempre Mastrosimone preferisce il teatro al cinema, benché quest'ultimo gli permetta di raggiungere un pubblico più vasto.
In un film, non hai molto potere – dice – Possono trasformare uno scioccante film su uno stupro in una gradevole commediola. E' vero, ha una grande distribuizione. In teatro, tu puoi fare come ti pare. Non raggiungi molte persone, ma quelli intelligenti vanno a teatro e così raggiungi così le persone intelligenti.
La sua opera successiva Sleepwalk riprende il tema degli adolescenti, focalizzandosi stavolta sul suicidio.
Volevo un dramma sul suicidio che parlasse della vita, dell'affermazione della vita. Sapevo che sarebbe stato un lavoro difficile, ma volevo scrivere un'opera che si radicasse sulla gioia di vivere. Mi ci vollero due anni per capire come riuscirci.
Sleepwalk finì per avere un profondo effetto sui suoi spettatori, specialmente sugli adolescenti con problemi. Mastrosimone racconta di un ragazzo che, dopo aver visto lo spettacolo, dice allo psicologo della scuola: "Mi sono appena rivisto sulla scena. Ho bisogno di aiuto."
Nella sua vasta produzione teatrale ricordiamo: THE WOOLGATHERER, EXTREMITIES che riceve il premio dei Outers Critics Circle, poi adattato per il cinema nel 1986. THE AFGHAN WOMEN che ha ispirato il film The Beast. Ed ancora: CAT'S PAW, SHIVAREE, SUNSHINE.
Intanto negli USA sta già riscuotendo un enorme successo Dirty Business, un appassionato dramma sulle meschinerie della politica e gli intrighi amorosi che conducono alle elezioni presidenziali. L'opera è basata sulla vera storia di una ragazza di partito contesa tra il capo della Mafia e il Presidente degli Stati Uniti.
Per la biografia si è fatto riferimento anche al pezzo di Jess Decina Mastrosimone torna alle origini.