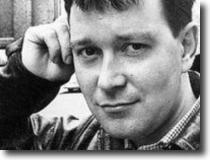 (Immagine per gentile concessione di
http://en.wikipedia.org/wiki/Joe_Orton)
Joe Orton
John Kingsley ("Joe") Orton (Leicester, 1 gennaio 1933 – Islington, 9 agosto 1967) è stato un drammaturgo inglese. In una carriera breve ma prolifica durata dal 1964 fino alla sua morte, ha colpito, indignato e divertito il pubblico con le sue scandalose commedie nere. Ortonesque è diventato un termine per indicare "scandalosamente macabro".
Orton incontrò Kenneth Halliwell al RADA nel 1951 e andò a vivere in un appartamento di West Hampstead con lui e con altri due studenti nel mese di giugno dello stesso anno. Halliwell aveva sette anni più di Orton e un patrimonio considerevole. Ben presto tra i due si formò un rapporto forte e divennero amanti.
Nei primi anni del 1960, Orton cominciò a scrivere opere teatrali. Scrisse il suo ultimo romanzo, Head to Toe, nel 1959.
Nel 1963 completò Entertaining Mr. Sloane, la cui prima fu messa in scena al New Arts Theatre il 6 maggio 1964 sotto la direzione di Michael Codron. Le recensioni variavano dalla lode all'oltraggio.
Entertaining Mr Sloane fece perdere denaro nelle sue prime tre settimane, ma l'apprezzamento da parte del commediografo Terence Rattigan, che investì £3.000 nell'opera, ne garantì la sopravvivenza. L'opera fu trasferita dal Wyndham's Theatre al Teatro del West End alla fine di giugno, e al Teatro della Regina nel mese di ottobre. "Sloane" fu classificato al primo porto come miglior dramma dalla rivista Variety. Nell'anno seguente, l'opera venne messa in scena a New York, in Spagna, Israele e Australia, oltre a diventare un film e uno spettacolo televisivo.
Il lavoro successivo di Orton fu Loot. Il primo progetto fu scritto tra giugno e ottobre del 1964 e intitolato Funeral Games, un titolo che Orton scartò su suggerimento di Halliwell e che avrebbe riutilizzato in seguito. L'opera è una parodia della narrativa poliziesca; Orton si serve della farsa nera e attacca le idee convenzionali su morte, polizia, religione e giustizia.
Orton rielaborò Loot con Kenneth Williams nel 1964.
Con il successo di Sloane, Loot andò subito in pre-produzione, nonostante i suoi difetti evidenti. Le prove ebbero inizio nel gennaio 1965 con un tour di sei settimane che si concluse col debutto al West End.
Orton, in contrasto con il regista Peter Wood sulla sceneggiatura, scrisse 133 pagine di materiale nuovo da sostituire o aggiungere alle 90 iniziali. L'opera ricevette recensioni negative a Brighton, Oxford, Bournemouth, Manchester, e a Wimbledon a metà marzo. Scoraggiati, Orton e Halliwell andarono in vacanza per 80 giorni a Tangeri, in Marocco.
Nel gennaio del 1966, Loot fu rilanciato e Orton tagliò oltre 600 battute, velocizzando il ritmo e migliorando le interazioni dei personaggi. Diretta da Braham Murray, l'opera raccolse giudizi più favorevoli.
In seguito ad un'altra rielaborazione, l'opera andò per la prima volta a Londra il 27 settembre 1966, con recensioni entusiastiche. Loot andò in scena al Criterion Theatre nel mese di novembre, mentre Orton era nel bel mezzo della scrittura di What the Butler Saw.
Loot vinse diversi premi e consolidò la fama di Orton.
Il 9 agosto 1967, Halliwell lo colpì a morte con nove colpi di martello alla testa, e poi si suicidò con una overdose di 22 compresse Nembutal con succo di pompelmo in scatola. Gli investigatori stabilirono che Halliwell morì per primo, perché il corpo di Orton era ancora caldo.
(dalla pagina di wikipedia)[http://it.wikipedia.org/wiki/Joe_Orton]