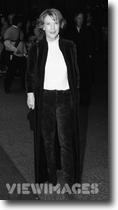 (Immagine per gentile concessione di
www.viewimages.com)
Eileen Atkins
Dame Eileen June Atkins (nata nel 1934) è una scrittrice inglese, pluri-premiata attrice di cinema e teatro. Tra i suoi risultati più celebri ci sono la creazione di due serie televisive, incluso il concept per una serie televisiva creata con Jean Marsh, intitolata Behind the Green Baize Door, con la serie successiva Upstairs, Downstairs vince il premio ITV. La stessa squadra firmerà anche la fortunata serie per la BBC The House of Elliott. I suoi noti quanto pregevoli lavori per la tv includono serie come The Three Sister (1970), Olivert Twist (1982) o David Copperfield (2000) tanto per citare i titoli più noti.
Recentemente la Atkins ha ottenuto il "monopolio" virtuale su Virginia Woolf. Ha infatti interpreto in teatro e sul piccolo schermo opere tratte dai racconti e romanzi della celebre autrice. Da ricordare poi il suo adattamento per il cinema di Mrs. Dalloway interpretato da Vanessa Redgrave. E' importante ricordare che proproprio quest'ultima venne chiamata dalla Atkins a interpretare con lei la piece teatrale Vita and Virginia). Nel 2002 fece un piccolo cammeo nel film del 2002 di Cunningham, The Hour. Sono celeberrime le sue interpretazioni anche sul grande schermo da Equus (1977) a Gosford Park (2001) ad Ask the Dust (2006), giusto per fare qualche nome.
Dame Eileen ha recitato a Broadway innumerevoli volte guadagnandosi ben quattro Tony Awards come Migliore Attrice teatrale.
Il suo debutto risale al 1966 con The Killing of Sister George di Frank Marcus. Tra le sue migliaia di interpretazioni vogliamo ricordare tre per tutte: Indiscretions di Jean Cocteau diretto da Sean Mathias nel 1995 (interpretato con Kathleen Turner e il debuttante Jude Law) e The Retreat's from Moscow di William Nicholson su un matrimonio in crisi con John Lithgow e Ben Chaplin nel 2004. Nel 2006 ottenne il ruolo protagonista in Doubt di John Patrick Shanley che le vale il premio Pulitzer.
Nel 2008 torna al West End con The Sea di Edward Bond al Theatre Royal Market.
La Atkins ha ottenuto due importanti onorificenze: la prima Commander of the British Empire (CBE) nel 1990, poi viene nominata Dame Commander (DBE) la seconda nel 2001.
nel 2004 ha vinto l'Olivier Award per Miglior Attrice con Honour.
La sua unica opera teatrale è Vita And Virginia del 1992.