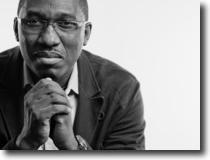 Kwame Kwei-Armah
Kwame Kwei-Armah, nato con il nome di Ian Roberts, nasce il 24 Marzo del 1967a Londra, ed è attore, regista, drammaturgo e cantante.
La sua trilogia ambientata nella comunità afro-caraibica, Elmina's Kitchen, Fix up e Statement of Regret, ha debuttato al Royal National Theatre.
Per Elmina's Kitchen Kwame è stato candidato ad un Lawrence Oliver Award e un BAFTA, e ha vinto nel 2003 l'Evening Standard Award per il Most Promising New Playwright.
Kwame ha debuttato nel 2007 come regista al Baltimore's Centerstage con Things of Dry Hours di Naomi Wallace, e ha diretto Dave Chappelle Was Right di Esa Davis e il suo stesso There Be Love al Tricycle Theatre di Londra.
Plays
Elmina's Kitchen
Fix Up
Blues Brother Soul Sister
Hold On
A Bitter Herb
Big Nose
Statement of Regret
Let There Be Love
Seize the Day