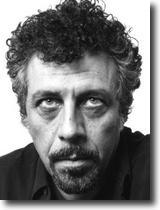 (Immagine per gentile concessione di
www.ericbogosian.com)
Eric Bogosian
Eric Bogosian (24 aprile 1953) è un attore, drammaturgo, scrittore americano.
Bogosian è conosciuto per aver scritto e interpretato la piéce Talk Radio (1987), nonché il film da essa tratto, diretto da Oliver Stone. Questa opera gli è valsa la nomination al premio Pulitzer e l'Orso d'argento al Festival di Berlino.
Tra il 1980 e il 2000 scrive i suoi sei monologhi Men Inside, FunHouse, Drinking in America, Sex, Drugs, Rock & Roll, Pounding Nails in the Floor With My Forehead, Wake Up and Smell The Coffee per i quali ha ricevuto tre Obie awards.
Altre opere teatrali di Bogosian sono subUrbia, Griller, Red Angel, Humpty Dumpty.
Tra i romanzi ricondiamo Mall e Wasted Beauty.