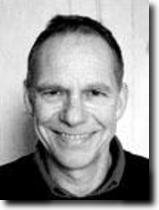 (Immagine per gentile concessione di
www.lamujerdenegro.info)
Stephen Mallatratt
Nigel Stephen Mallatratt (15 giugno 1947 – 22 November 2004) è stato uno sceneggiatore, autore televisivo e attore inglese, ricordato principalemente per l'adattamento teatrale del romanzo di Susan Hill del 1983, The Woman in Black. L'opera, che vide il suo debutto nel 1987 nel teatro di Scarborough, ebbe un successo tale da essere trasferita nel 1989 presso il Fortune Theatre ed è, ad oggi, il secondo spettacolo più longevo del West End, subito dopo The Mousetrap di Agatha Christie.
Mallatratt si è distinto anche per le sue doti attoriali, con le quali si è fatto notare da Alan Ayckbourn che lo ha scritturato per Confusions (1974), Absent Friends (1974) e Bedroom Farce (1975) allo Stephen Joseph Theatre di Scarborough.
In anni più recenti, viene ricordato per aver sceneggiato due successi televisivi per la rete britannica ITV: Coronation Street e The Forsyte Saga, due adattamenti de La saga dei Forsyte di John Galsworthy, entrambi del 2002, e Island at War del 2004.