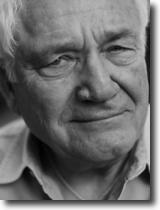 (Immagine per gentile concessione di
Matt Pereira)
David Seidler
David Seidler (1937) è un drammaturgo e sceneggiatore anglo-americano.
L'opera che gli ha fatto conoscere il successo è il testo teatrale Il Discorso del Re, la cui trasposizione cinematografica (ad opera dello stesso Seidler) ha vinto gli Academy Award e 7 BAFTA, incluso miglior film dell'anno e miglior film britannico, nonché 4 premi Oscar (tra cui quello di Migliore Sceneggiatura) su ben 12 candidature.
Seidler nasce a Londra, dove cresce in una famiglia ebrea della medio-alta borghesia. Durante la seconda guerra mondiale la famiglia emigra negli Stati Uniti: si imbarcano su una di tre navi, una delle quali viene affondata dai tedeschi. Durante il viaggio in nave Seidler comincia ad avere problemi di balbuzie. Lui racconterà in seguito che il balbettare potrebbe essere stata una conseguenza dei traumi della guerra – problema che si porterà dietro per tutta l'adolescenza, fino a che non decide di affrontarlo e di superarlo.
La famiglia Seidler si stabilisce a Long Island, New York, dove David cresce e studia.
Opere:
Malice in Wonderland (1985)
Onassis: The Richest Man in the World (1988)
Tucker: The Man and His Dream (1988)
Goldrush: A Real Life Alaskan Adventure (1988)
Quest for Camelot (1998)
The King and I (1999)
Come On, Get Happy: The Partridge Family Story (1999)
Son of the Dragon (2008)
The King's Speech (2010)
Seidler approda a Hollywood a 40 anni, con la sceneggiatura di Tucker: The Man and His Dream di Francis Ford Coppola.
La versione teatrale de Il Discorso del Re ha debuttato in Inghilterra nel 2012 per la regia di Adrian Noble (ex Direttore Artistico della Royal Shakespeare Company) con Charles Edwards, Jonathan Hardy, Ian McNeice, Joss Ackland, e Emma Fielding.
Curiosità: In un intervista Seidler afferma che Giorgio VI fu un suo eroe d'infanzia, che gli dava speranza quando ascoltava i suoi discorsi, incoraggiato dai genitori: "David, vedi, lui balbettava molto più di te, e invece ascoltalo adesso!".