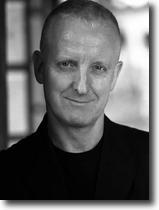 (Immagine per gentile concessione di
www.rsamd.ac.uk)
Iain Heggie
Iain Heggie, scrittore, adattatore e insegnante, uno sperimentatore dell'improvvisazione e dei metodi di insegnamento della recitazione.
Nasce a Glasgow nel 1953. La sua pièce A Wholly Healthy Glasgow (1988) vince il premio Mobil e la sua American Bagpipes (1989) vince il premio John Whiting: entrambe hanno debuttato al Royal Exchange Theatre di Manchester, e sono poi state rappresentate al The Royal Court di Londra. I suoi atti unici intitolati The Sex Comedies (2003) sono state rappresentante ripetutamente a LOndra, in Scozia, in Germania e in Austria.
Una delle sue opere più celebri è senza dubbio An Experienced Woman Gives Advice presentata nel 1995 al Royal Exchange Theatre di Manchester, poi prodotta per il Royal Lyceum di Edinburgo. Il suo adattamento del Don Giovanni di Moliere è stato portato in tournee in Scozia nel 1998 e il successivo adattamento ancora più radicale, intitolato The Don che ha diretto lui stesso per il Royal Scottish Academy of Music and Drama di Glasgow.
King of Scotland (2000) e Wiping My Mother's Arse (2001) sono stati presentati al Festival di Edinburgh e vinsero il Fringe First awards, mentre il suo contemporaneo adattamento di Double Inconstancy di Marivaux, rintitolato Love Freaks (2002) venne presentato per la prima volta al The Tron di Glasgow.
Tra le sue pièce più recenti ricordiamo: Sauchiehall Street (2004) che è stata portata in tour per la Scozia e il nord dell'Inghilterra; e Tragic, una commedia per giovani adulti.
Nel 2003 Iain Heggie diede una prima lettura dei suoi poemi brevi e monologhi e iniziò un lavoro sulla suo primo lungometraggio Comet's Wake, con Laurent Theillet. Il suo ultimo lavoro per il teatro è Hollywood, un adattamento dal romanzo di Charles Bukowski.