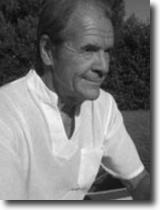 (Immagine per gentile concessione di
www.robinhawdon.com)
Robin Hawdon
Robin Hawdon ha avuto una carriera molto variegata e le sue attività toccano numerosi diversi rami dell'arte.
Da romanziere e drammaturgo per il West End ad attore di soap, di B movies e di Amleto, a regista e direttore di uno dei più importanti teatri inglesi.
Tra le sue commedie ricordiamo:
THE MATING GAME, il suo maggior successo, a lungo all'Apollo Theatre, e poi messo in scena in più di trenta paesi in tutto il mondo.
BIRTHDAY SUITE
REVENGE
DON'T ROCK THE BOAT
PERFECT WEDDING
DON'T DRESS FOR DINNER (grande successo basato sulla commedia francese di Marc Camoletti, che è stato al West End sei anni ed ha girato poi in tutti i paesi anglofoni).
GOD AND STEPHEN HAWKING.
Sito ufficiale: http://www.robinhawdon.com