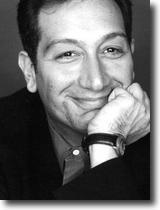 Moisés Kaufman
Moisés Kaufman ( 21 Novembre, 1963) drammaturgo e regista, nato e cresciuto a Caracas (Venezuela) e trasferitosi a New York nel 1987, è fondatore del Tectonic Theater Project.
Con il Tectonic ha diretto diverse opere, ma il lavoro che lo ha reso famoso è senz'altro The Laramie Project.
Kaufman ha scritto anche The Three Trials of Oscar Wilde, molto acclamato dalla critica.
Come regista, ricordiamo Endgame di Samuel Beckett, Machinal di Sophie Teadwell e In the Winter of Cities di Tennessee Williams (tutti messi in scena al Frederick Loewe Theatre).
Una retrospettiva dell'opera di Kaufman's è stata presentata nel 1993 presso il Consolato Generale del Venezuela.
Nel 1997 ha vinto il Joe A. Callaway Award per essersi distinto nella regia e nella coreografia dei suoi spettacoli.