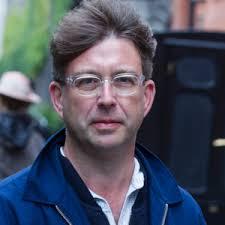 Colin Teevan
Colin Teevan (Dublino, 1968) è un drammaturgo, traduttore e scrittore televisivo. Recentemente ha scritto e prododotto due miniserie televisive di successo per la rete nazionale irlandese RTE, Rebellion (2016) e Resistance (2019), entrambe sulla Guerra d'indipendenza irlandese. Sempre per RTE ha scritto tre film incentrati sulla vita di Charles Haughey, con protagonisti Tom Vaughan Lawlor e Aidan Gillen, il quale ha anche vinto un IFTA per la parte. Altri successi televisivi di Teevan sono Silk (BBC) con Maxine Peake, Vera (ITV) con Brenda Blethyn e Single Handed (ITV). Al momento, l'autore sta lavorando a una nuova serie TV, ambientata a Shangai e prodotta da Warp.
Le opere teatrali di Teevan sono andate in scena nei principali teatri britannici, quali il National Theatre, lo Young Vic, il Soho Theatre e il National Theatre of Scotland. Tra i suoi ultimi successi va ricordato il libero adattamento del Doctor Faustus di Marlowe, con protagonista Kit Harrington. Opera teatrale che nel 2016 è approdata nel West End londinese, dopo essere andato in scena nella West Yorkshire Playhouse e nel Citizens Theatre di Glasow ed essere stato definita da The Indipendent "a thing of beauty to watch".
Un altro suo recente adattamento, di The Emperor di Kapuscinski – interpretato dalla vincitrice di un Olivier Award, Kathryn Hunter, e diretto dal tedesco Walter Meierjohann – ha non solo fatto il tutto esaurito allo Young Vic di Londra, all'Home di Manchester e al Grand Theatre de la Ville di Lussemburgo, ma si è anche assicurato il Manchester Theatre Awards nel 2017. Il dramma The Kingdom, incentrato sull'emigrazione Irlandese a Londra, è andato in scena al Soho Theatre nel 2012 ed è stato entusiasmicamente accolto da The Indipendent, che lo ha definito "a fiercely intense and haunting production". The Bee, co-creato con il regista giapponese Hikedi Noda, è andato in scena per ben due volte al Soho Theatre ed è stato portato in tournée a New York, in Giappone e al Theatre National de Chaillot di Parigi. La sua nuova versione di Peer Gynt per il National Theatre of Scotland è successivamente approdata al Barbican.
Nel 2009, Colin si è occupato dell'adattamento di Report to An Academy di Franz Kafka, dal titolo Kafka's Monkey, per una produzione dello Young Vic e diretto da Meierjohann. L'opera ha ottenuto un successo di critica tale da tornare in scena allo Young Vic e da girare il mondo in tournée. There Was A Man, There Was No Man, altro lavoro di successo dell'autore, ha fatto parte della rassegna teatrale incentrata sulla bomba atomica organizzata dal Tricycle di Londra. Sempre al Tricycle, Teevan si era fatto apprezzare per The Lion of Kabul, un dramma facente parte del Great Game Festival e approdato persino al Pentagono, nel contesto di una tournée americana.
Tra le altre sue opere vanno ricordate il premiato dramma e radiodramma How Many Miles to Basra?, Missing Persons, Four Tragedy e Roy Keane; le traduzioni dal greco The Bacchai e Iphigenia in Aulis di Euripide e, dall'italiano, Cuckoos di Giuseppe Manfridi e Marathon di Edoardo Erba; e gli adattamenti di Svejk, romanzo di Jaroslav Hasek, del Don Quixote e Monkey!, basato su The Journey to the West.
Le opere di Teevan sono edite dalla Oberon Books.