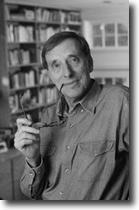 (Immagine per gentile concessione di
Dukenews)
Ariel Dorfman
Ariel Dorfman,scrittore, drammaturgo, saggista e giornalista cileno, nonché attivista dei diritti umani, nasce in Argentina nel 1942.
Prefessore Emerito alla Duke University, i suoi libri sono stati tradotti in più di cinquanta lingue e i suoi lavori messi in scena in più di cento paesi. Il suo dramma La morte e la fanciulla ha vinto l'Olivier Award come miglior lavoro teatrale nel 1991, Roman Polanski ne ha realizzato un film e l'opera continua ad essere messa in scena in tutto il mondo.
WIDOWS e READER sono stati premiati dal Kennedy Center e anch'essi sono stati messi in scena in tutto il mondo. Tra le altre opere ricordiamo PURGATORIO – che nel 2011 è stato presentato a Madrid con protagonista Viggo Mortensen, THE OTHER SIDE/DELIRIUM,(Market Theatre,
Johannesburg, 2012) PICASSO'S CLOSET e SPEAK TRUTH TO POWER: VOICES FROM BEYOND THE DARK. Nel 1995, il suo film per la BBC PRISONERS IN TIME, ha vinto come miglior sceneggiatura i WGGB Awards.  Tra le altre sceneggiature ricordiamo SHAHEED, BURNING CITY e un adattamento del suo romanzo BLAKE'S THERAPY.
Nel 2011 è stato pubblicato FEEDING ON DREAMS, sequel di HEADING SOUTH, LOOKING NORTH (le sue memorie pubblicate nel 1999), su cui si basa il documentario A PROMISE TO THE DEAD.
Da attivista dei diritti umani, nel 2010 ha tenuto la conferenza annuale su Mandela in Sud Africa.
Tra gli ultimi lavori per il teatro ricordiamo ALLEGRO! e ADIOS, CERVANTES scritto in occasione del quattrocentesimo anniversario della morte di Cervantes, OUT OF THE DARK, una riscrittura dell'Edipo ambientata in America Latina.
Tra i suoi ultimi libri HOMELAND SECURITY ATE MY SPEECH, il romanzo DARWIN'S GHOSTS AND THE UPCOMING CAUTIVOS.
HOW TO READ DONALD DUCK è la sua celebrata analisi dei fumetti di Disney.
Il libro per bambini THE RABBITS' REBELLION è uscito negli Stati Uniti con grande successo.
Sta per essere realizzato un film tratto dal suo romanzo MASCARA.
Ha scritto due libretti d'Opera: un adattamento de La Morte e la fanciulla che ha debuttato a Malmoe e NACIKETA per l'Opera Circus col compositore Nigel Osborne.
Lui e sua moglie Angelica dividono il loro tempo tra Durham, North Carolina, e Santiago, Cile.
www.adorfman.duke.edu
Saggi
—–
– Konfidenz: l'opera è del 1995, ma venne ristampata nel 2003 con l'introduzione di Andrei Codrescu;
– Heading South, Looking North: A Bilingual Journey (1998), il libro di memorie;
– Exorcising Terror: The Incredible Unending Trial of General Augusto Pinochet: tradotto in spagnolo, francese, italiano e turco (2002).
– The Burning City – scritto in collaborazione con Joaquin Dorfman (2003);
– Manifesto for Another World: Voices from Beyond the Dark (2004);
– Desert Memories: Journeys through the Chilean North (2004);
– Other Septembers, Many Americas: Selected Provocations 1980-2004.
Teatro
——
– Mascara
– Picasso's Closet
– The Other Side
– Purgatorio
– Death and the Maiden
– Dancing Shadows
– Who's Who
– Widows
– Reader
– Speak Truth to Power. Che Dorfman sia un fiero attivista dei diritti umani non è una novità. Chi altri poteva dunque firmare l'adattamento teatrale dal romanzo di Kerry Kennedy? La piece è dedicata e ispirata a tutti i grandi difensori dei diritti umani. Nella rappresentazione statunitense parteciparono nomi importanti quali Kevin Kline, Sigourney Weaver, Alec Baldwin, Alfre Woodard, Julia Louis-Dreyfuss, Rita Moreno, Hector Elizondo, Giancarlo Esposito, Lynn Redgrave, Sean Penn, Robin Wright Penn, Woody Harrelson, Martin Sheen, Kenny Leon, Fisher Stevens, Bob Herbert e Paege Cleage. Le musiche della versione americana sono di Jackson Browne, Hugh Masekela, The Indigo Girls e The Spellman Choir.
Quest'opera giunse in Italia nel 2006 in una versione curata da Lucio Dalla.
– Naciketa
– Feeding on Dreams: Confessions of an Unrepentant Exile, 2011
– Dancing Shadows, 2013