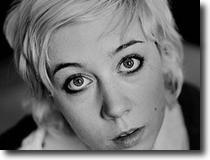 Polly Stenham
Polly Stenham, nata in Inghilterra nel 1987, è una giovanissima drammaturga allieva del Royal Court all'interno del programma Royal Court's Young Writers.
Debutta nel 2007, appena diciannovenne, con That Face opera con la quale vince il Charles Wintour Award, il Critics' Circle Award come drammaturgo più promettente, e il TMA Award come miglior commedia.
Con That Face, opera dedicata al padre, morto nel 2006, l'autrice dipinge la caduta libera di una famiglia agiata. A seguito del grande successo della commedia, la Stenham sta attualmente lavorando ad un adattamento per il cinema.
Il suo secondo lavoro Tusk Tusk ha debuttato al Royal Court nel Marzo del 2009.