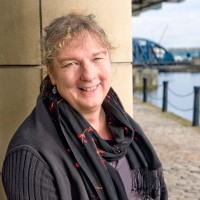 (Immagine per gentile concessione di
www.playwrightsstudio.co.uk)
Jo Clifford
Jo Clifford è una drammaturga, performer, un padre e una nonna orgogliosa.
Ha scritto oltre 100 opere teatrali.
Recentemente ha eseguito il suo Gospel According to Jesus Queen of Heaven a San Paolo poco prima del lockdown.
La sua traduzione di Life is a Dream doveva essere ripresa dal Lyceum a maggio; la traduzione finlandese del suo Wuthering Heights è andata in scena a Helsinki; e la sua  Light in the Village (in una traduzione in urdu) doveva debuttare a Karachi a luglio.
Attualmente sta lavorando a un pezzo danzato/parlato con la ballerina Skye Reynolds; e a The Not So Ugly Duckling con l'attrice e scrittrice Maria MacDonell.