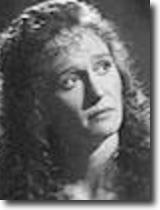 (Immagine per gentile concessione di
www.wuthering-heights.co.uk)
Kay Adshead
Kay Adshead, attrice, poetessa e drammaturga inglese che ha fatto dell'impegno sociale e politico la sua priorità. Ha ottenuto importanti riconoscimenti con The Bogus Woman, messo in scena al festival di Edimburgo nel 2000, questo testo "kafkiano" tratta con dovizia quasi documentaristica le sofferenze e le peripezie dei rifugiati che chiedono asilo politico.
Con Bites, rappresentato nel 2005 al Bush Theatre di Londra, la Adshead porta in scena le contraddizioni del ricco e opulento occidente – che si materializza nel modello del cowboy texano – inconciliabile con le necessità dei paesi vittime della disuguaglianza globale – rappresentati dal contesto dell'Afghanistan. In una serie di brevi quadri, in cui le tematiche e i personaggi si dipanano e si intersecano, l'autrice contrappone gli eccessi dell'uno con le privazioni dell'altro.
La Adshead ha scritto per il teatro:
2006 – BONES al Bush Theatre
2005 – BITES al Bush Theatre
2003 – ANIMAL Soho Theatre, National Tour
2003 – METAL AND FEATHERS al Cockpit Theatre, parte di SMALL OBJECTS OF DESIRE
2001 – THE SNOW EGG (una commedia per bambini) al Tiebreak Theatre tour
2001/2002 – LADY CHILL, LADY WAD, LADY LURV, LADY GOD al National Theatre, parte di Shell Connections
2000/2001 – THE BOGUS WOMAN
2000 – THE SCOTSMAN, prima assoluta al Fringe Festival, opera poi candidata nel 2001 al Susan Smith Blackburn Award, Traverse Theatre e Bush Theatre
2000 – BOGUS PEOPLE'S POEM The Red Room / BAC
1998 – JUICY BITS Lyric, Hammersmith
1996 – BACILLUS al the Red Room a seguito di prove aperte e letture al the Cockpit e the Hampstead
1995 – THE SLUG SABBATICAL Calouste Gulbenkian Award Bursary per uno spettacolo di poesia alla
Red Room
1993 – RAVINGS: DREAMINGS presso la Manchester Library
1993 – THE STILL BORN Soho Theatre
1987 – THATCHER'S WOMEN Paines Plough / Tricycle Theatre
1987 – FEARS AND MISERIES OF THE THIRD TERM
1987 – AFTER THE PARTY Altered States / Liverpool Playhouse
L'Autrice ha anche scritto dei cortometraggi:
AFTER THE PARTY
CLUB X (Channel Four)
ORANGES AND LEMONS
BBC City Shorts
Per la radio:
2002 – HANGING prodotto da Caterine Bailey, BBC Radio 4
2001 – THE BOGUS WOMAN prodotto da Catherine Bailey, BBC Radio 3
Pubblicazioni:
Le pièce di Kay sono state edite dalla Oberon Books, fatta eccezione per THE SLUG SABBATICAL che è stata pubblicata da Faber & Faber.