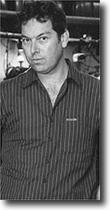 (Immagine per gentile concessione di
The Guardian)
Joe Penhall
Joe Penhall, autore inglese, nato a Londra nel 1967. E' stato definito dal Financial Times uno degli autori più raffinati della sua generazione. Durante la giovinezza vive in Australia dove scrive una rubrica di musica rock sull'ON DIT, il giornale studentesco della Adelaide University.
Penhall vince il Laurence Olivier Award, The Evening Standard Award e il Critics' Circle Theatre Awards per Blue/Orange una piece sulle dinamiche tra un giovane schizofrenico di colore e due psichiatri in un manicomio di Londra. Portato per la prima volta in scena al National Theatre nel 2000 per la regia di Roger Michell, vide nel cast Bill Nighty, Andrew Lincoln e Chiwetel Ejiofor. L'anno seguente la piece replica al Duchess Theatre.
Sempre nel 2000 Penhall cura l'adattamento cinematografico della sua opera Some Voices già rappresentato al Royal Court e all'Off-Broadway (l'opera tratta l'impatto della schizofrenia su una famiglia media). La regia di quest'opera fu di Simon Cellan-Jones e vide tra gli interpreti Daniel Craig e Kelly Macdonald, successivamente ottiene a Cannes il premio come Director's Fortnight.
Inoltre nel 2004 Penhall adatta per il grande schermo anche il romanzo Enduring Love di Ian McEwan, con Rhys Ifan e Daniel Craig, e scrive per la BBC2 la riduzione televisiva in quattro puntate del romanzo The Long Firm di Jake Arnott.
Una delle sue ultime opere è Dumb Show un attacco esilarante sugli eccessi dei giornalisti delle riviste: la piece viene rappresentata al Royal Court Theatre per la regia di Terry Johnson nel 2004.
Penhall ha detto che dopo aver scritto Blue/Orange – "una grande opera nera" – voleva scrivere una "piccola opera bianca".
Nel 2007 è stata rappresentata al National Theatre Landscape with weapon: parla di un giovane e brillante ingegnere che inventa un'arma innovativa e devastante di distruzione di massa. La regia è nuovamente affidata a Roger Michell.
Egli è stato inoltre il regista del Royal Court Theatre e il suo primo cortometraggio The Undertaker è stato premiato al London Film Festival.
Nel 2009 ha adattato La strada di Cormac McCarthy per il grande schermo. Il film, intitolato The Road diretto da John Hillcoat ed interpretato da Viggo Mortensen, è stato presentato con clamoroso successo al Festival di Venezia .