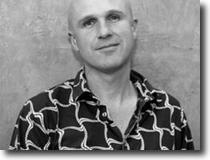 (Immagine per gentile concessione di
British Council)
Tim Crouch
Tim Crouch, attore e drammaturgo inglese.
Conosce il successo pieno con la sua piece, ENGLAND, acclamata dalla critica dell'Edinburgh Festival che gli assegna il primo premio. Tim è stato inoltre insignito dell'HERALD ArchAngel per il suo lavoro ad Edinburgo durante questi anni. Attualmente lavora su commissione del Royal Court.
La sua prima opera,MY ARM viene presentata al Traverse Theatre di Edinburgo nel 2003. E da allora è stata messa ripetutamente in scena a Londra (al BAC) e New York (59E59) come esponente dei Brits Off Broadway. Tim Crouch è insignito del premio della Critica assegnato dalla rivista TIME OUT sia di Londra che di New York. La produzione di MY ARM continua il tour in Gran Bretagna, Europa, Nord America, con importanti eventi in Germania, Svizzera, Belgio e Australia. L'adattamento di MY ARM per Radio 3 della BBC ha vinto il Prix Italia 2005 come miglior adattamento radiofonico.
La seconda piece di Tim è AN OAK TREE che debutta al Traverse Theatre di Edinburgo nel 2005, vincendo poi il premio Glasgow Herald Angel. Tim consegue anche il premio Miglior Attore recitando nella sua stessa piece durante il Brighton Festival nel 2006. AN OAK TREE si serve di un diverso co-protagonista scelto tra il pubblico ogni sera. Questo ruolo è stato ricoperto da attori quali Christopher Eccleston, Toby Jones, Kathryn Hunter e Roger Lloyd-Pack. AN OAK TREE ha girato tutto il mondo uscendo dall'off-Broadway per essere rappresentato al Barrow Street Theatre di New York e aggiundicandosi così lo Special Citation Obie*.
La piece raggiunge il Soho Theatre nel febbraio 2007 dove registra per quattro settimane il tutto esaurito.
Tim ha scritto inoltre una trilogia di monologhi shakespeariani per ragazzi: I, CALIBAN (2003), I, PEASEBLOSSOM (2004), e I, BANQUO (2005).
Originariamente commissionate dal Brighton Festival, queste tre piece vengono rappresentate tutte insieme sotto il titolo FAIRYMONSTERGHOST presso l'Unicorn Theatre nell'autunno del 2006.
In questi anni, Tim ha inoltre collaborato con il National Theatre.
La sua commedia SHOPPING FOR SHOES gli è stata commissionata dall'Educational Department ed ha girato l'Inghilterra, la Scozia, l'Australia e la Germania.
Nel 2006, egli completa un lavoro commissionatogli dal Theatre Royal di Plymouth, dal Theatre Royal di York e il Polka Theatre, cioè KASPAR THE WILD, scritto per i bambini delle elementari da recirarsi come parte di un progetto teatrale.
I suoi ultimi successi sono THE AUTHOR (2009) e I, MALVOLIO (2010) con il quale sta girando attualmente per i teatri d'Europa.
Tim è stato inoltre insignito di un premio speciale dalla Peggy Ramsay Foundation.
Le sue opere sono edite da Faber & Faber e da Oberon Books.
Per avere altre informazioni sul lavoro di Tim Crouch, vi invitiamo a vistare il sito www.timcrouchtheatre.co.uk