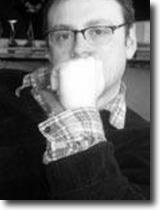 (Immagine per gentile concessione di
www.contemporarywriters.com)
Lee Hall
Lee Hall, drammaturgo, nato a Newcastle in 1966. Ha conosciuto il successo con la sua piece Spoonface Steinberg (1997), un monologo per una bambina di nove anni, autistica e malata di cancro: venne trasmessa per la prima volta dalla BBC Radio 4 nel 1997. Successivamente adattò quest'opera per la televisione nel 1998 e per il teatro nel 2000. Venne n ominato Writer in Residence at the Royal Shakespeare Company nel 1999/2000 durante i Pearson Playwrights Scheme Award.
Cooking with Elvis (2000) è un adattamento della serie God's Country che egli scrisse per la BBC Radio e che includeva Spoonface Steinberg. L'opera debuttò all'Edinburgh Festival nel 2000 e poi venne portata al West End di Londra in una produzione che vide come protagonista il comico Frank Skinner.
Il suo adattamento dell'opera goldoniana rintitolata The Servant with Two Masters venne rappresentata per la prima volta dalla Royal Shakespeare Company a Stratford nel 1999. Lee Hall tradusse iunoltre due opere di Bertolt Brecht: Mr Puntilla e His Man Matti, scritta per The Right Size/Almeida Theatre, e che debuttò all'Edinburgh Fringe Festival nel 1998; e Mother Courage portata in scena dalla Shared Experience theatre company nel 2000.
Il suo adattamento dell'opera tedesca The Good Hope (2001) di Herman Heijermans venne presentata al Royal National Theatre in 2001.
Egli scrisse anche la sceneggiatura del film, poi divenuto un Musical di enorme successo nel Regno Unito tanto quanto negli Stati Unti, Billy Elliot (1999), diretto da Stephen Daldry per la Tiger/BBC Films/WT2, per il quale ricevette una nomination agli Oscar come migliore Sceneggiatura originale. Infine nel 2000 adattò la sua stessa piece I Luv You Jimmy Spud (1997), per il protagonista del suo film, Billy Connolly.
Tra le sue ultime piece ricordiamo anche The Pitmen Painters.
Lee Hall collaborò alla stesura della sceneggiatura del film Pride and Prejudice nel 2005. Recentemente ha adattato The Wind in the Willows per la televisione.