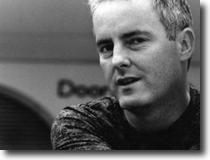 (Immagine per gentile concessione di
www.whatsonstage.com)
Tim Firth
Tim Firth nasce e vive nella regione nord occidentale dell'Inghilterra sul confine tra le contee Cheshire e Lancashire. Mentre frequenta la Warrington comprehensive school passa il tempo a scrivere canzoni.
Solo un paio di mesi prima di iscriversi a Cambridge, frequenta il corso presso l'ARVON FOUNDATION nel West Yorkshire, diretto da Willy Russell grazie al quale Tim apprende la tecnica di scrittura del dialogo. (Durante questo corso Tim ha scritto dell'unica cosa che conosceva: due sedicenni che cercano di scrivere una canzone.)
Un altro partecipante al corso decide di coinvolgere Tim nella sua compagnia teatrale come scrittore: da questo momento Tim decide di diventare uno scrittore.
Durante il primo anno a Cambridge, Tim viene allettato a recitare da un aspirante regista chiamato Sam Mendes. Ma recitare non era il suo forte e durante una delle prove Tim confida a Sam di preferire la scrittura alla recitazione. Sam continuerà a dirigere tutte le piece di Tim a Cambridge, fondando con lui una compagnia teatrale che farà girare i suoi spettacoli in teatri amatoriali fino ad approdare ad Edinburgo. Durante questo periodo Tim collabora con il team della rivista Footlights con cui in seguito crea una serieradiofonica di grande successo.
Lasciata Cambridge, Tim viene invitato da Alan Ayckbourn a Scarborough e gli viene commissionata una piece per lo studio theatre di Stephen Joseph. Dopo aver saputo che lo studio theatre era diventato anche un caffè-teatro, Tim scrive una commedia (su degli uomini che sistemano delle lettere giganti sulla facciata di un edificio) pensata per un contesto in cui gli attori avrebbero dovuto gridare per farsi sentire dato il rumore delle posate. Questo suo atto unico MAN OF LETTERS fu un tale successo da meritargli un nuovo ingaggio da Ayckbourn per una commedia più lunga. Nasce così NEVILLE'S ISLAND che in seguito non solo viene rappresentata al West End ma anche nel mondo essendo tradotta in diverse lingue. La piece viene rappresentata quasi consecutivamente per 10 anni e in occasione di questo anniversario è stata allestita una produzione da record al Liverpool Playhouse.
La collaborazione tra Tim e il teatro di Ayckbourn è stata molto prolifica, al punto che la piece di Tim del 2002, THE SAFARI PARTY è stata diretta dallo stesso Ayckbourn e quindi rappresentata anche al nuovo Hampstead Theatre di Londra.
Nella primavera del 2003, il primo musical di Tim OUR HOUSE, con parole e muisca di Madness, gli valse il premio Olivier come Miglior Musical Inedito.
All'epoca di NEVILLE'S ISLAND, Tim aveva iniziato a scrivere per la televisione e il suo primo film per la tv MONEY FOR NOTHING viene trasmesso nel 1993 (un giovanotto che scommette che il suo cheeseburger varrà un b iglietto da un milione di sterline entro la fine delle vacanze estive) e vince il premio Writer's Guild Award. La sua prima serie, incentrata su dei ventenni dell'esercito, era intitolata ALL QUIET ON THE PRESTON FRONT. La serie durò cinque anni e venne premiata con numerosi riconoscimenti nazionali ed internazionali. Da allora il suo lavoro per la TV ha incluso diverse commedie uniche in una seria initolata ONCE UPON A TIME IN THE NORTH, una versione televisiva di NEVILLE'S ISLAND prodotta da Judy Craymer, e THE FLINT STREET NATIVITY i cui protagonisti hanno cinque anni. Il suo più recente film per la TV è stato CRUISE OF THE GODS, con Steve Coogan e Rob Brydon e aveva un'ambientazione fantascientifica.
Anche prima della nascita dei suoi tre figli, Tim si era dedicato alla scrittura per l'infanzia e la serie THE ROTTENTROLLS (basate sulle storie che suo padre gli raccontava quando era bambino) sono diventate molto popolari al punto che fu una delle prime serie trasmesse il pomeriggio per i bambini e la notte per gli adulti. La serie gli valse il premio BAFTA come Miglior programma di intrattenimento per i bambini.
Le prime due sceneggiature di Tim sono arrivate nelle sale nel 2003. CALENDAR GIRLS, con Helen Mirren e Julie Walters ha scalato le classifiche in Inghilterra ed è diventato uno dei sette film di maggior successo in Gran Bretagna e si trova tra i primi 50 film che abbiano incassato di più nella storia del cinema inglese. Ha inoltre scalato le classifiche americane raggiungendo il 5° posto ed ha incassato più di 93 milioni di dollari in tutto il mondo, facendo incetta di numerosi premi.
Contemporaneamente nelle sale usciva anche BLACKBALL, con Paul Kaye, Johnny Vegas e Vince Vaughn che si è piazzato al 3° posto nelle classifiche inglesi. Entrambi i film vennero proiettati per la prima ai due cinema presenti su Leicester Square.
Nel 2004 Tim ha pensato ad una serie di commedie intitolate TRAPPED, scritte con Simon Nye e Jonathan Harvey. I film della serie sono disponibili in DVD.
Recentemente Tim ha inciso il suo primo album HARMLESS FLIRTING ed ha terminato il progetto di scrivere canzoni per il teatro con Willy Russell. Cosa che ha portato allo spettacolo IN OTHER WORDS portato in tour per la Gran Bretagna.
Per la biografia si rimanda al sito ufficiale di Tim Firth:
www.timfirth.com