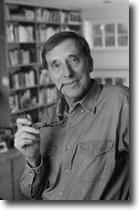 (Immagine per gentile concessione di
Dukenews)
Ariel Dorfman
Ariel Dorfman, scrittore, drammaturgo, saggista e giornalista cileno, nonché attivista dei diritti umani, nasce in Argentina nel 1942. La sua famiglia si trasferisce negli Stati Uniti subito dopo la nascita del piccolo Ariel, per poi stabilirsi in Cile dal 1954. Qui Dorfman studiò, laureandosi nel 1965 in Letterature Comparate presso l'Universitad de Chile, dove poi insegnò. Prese la cittadinanza cilena nel 1967 e dal 1970 al 1973 fece parte dell'amministrazione del presidente Salvador Allende. E' costretto all'esilio dopo il golpe del 1973. Potrà tornare in patria solo dopo la restaurazione della democrazia (1990). L'esilio, momento di grande dolore per Dorfman gli diede l'occasione di insegnare in università come la Sorbona e l'Università di Amsterdam, avendo così la possibilità di denunciare gli orrori della dittatura di Pinochet, di cui Dorfman è sempre stato un accanito critico. Da ricordare la sua vasta produzione di articoli pubblicati in saggi e articoli (vedi il giornale spagnolo El Paìs).
Tornato finalmente in Cile, Dorfman si divide tra Santiago e gli Stati Uniti: infatti dal 1985 detiene le cattedre di letteratura (Walter Hines Page Research) e di Studi latino-americani alla Duke University (North Carolina).
Dorfman ha scritto opere di straordinario impatto che trattano frequentemente gli orrori della dittatura e i patimenti dell'esilio (come emerge nei suoi ultimi lavori).
Tra i suoi romanzi ricordiamo Widows (1981; tradotto nel 1983), The Late Song of Manuel Sendero (1983; tr. 1987), My House Is on Fire (1990), e The Nanny and the Iceberg (1999). Ha anche scritto poesie e saggi incentrati sul terrore della dittatura. Il suo complesso thriller psicologico Mascara (1988) venne pubblicato contemporaneamente in inglese e spagnolo. Facendo sue tematiche come castigo e riconciliazione, la sua opera più celebre, il dramma Death and the Maiden (1992) fa i conti con la tortura politica e i suoi effetti collaterali. L'opera descrive l'incontro tra una vittima della tortura e quello che lei crede essere stato il suo aguzzino. Dorfman curò anche la sceneggiatura per l'omonimo film del 1994 diretto da Roman Polanski, con Ben Kingsley e Sigourney Weaver. La repressione politica è il tema centrale anche della sua opera del 1995, l'agghiacciante Reader.
Egli fu anche oggetto di un docu-fiction A promise to the dead diretto da Peter Raymond. Il film venne premiato nel 2007 al Toronto International Film Festival e nel novembre del 2007 ha ottenuto la nomination agli Oscar nella sezione documentari.
Dorfman fa parte dei cosiddetti Duke 88. Sulla scia dello scandalo dei giocatori della Lacrosse (squadra della Duke University), alcuni professori firmarono una lettera esigendo un ampio dibattito sul modo in cui la comunità universitaria vedeva il razzismo e il sessismo. La lettera fu poi pubblicata integralmente sulle riviste locali e venne diffusa in tutto il paese.
Dorfman ha ottenuto molti premi in tutto il mondo; tra i quali si ricordano il Premio Olivier per la miglior opera teatrale con Death and the Maiden e il premio Writers' Guild per la miglior sceneggiatura con Prisoners in Time.
Dorfman è membro dell'Académie Universelle des Cultures.
Saggi
—–
– Konfidenz: l'opera è del 1995, ma venne ristampata nel 2003 con l'introduzione di Andrei Codrescu;
– Heading South, Looking North: A Bilingual Journey (1998), il libro di memorie;
– Exorcising Terror: The Incredible Unending Trial of General Augusto Pinochet: tradotto in spagnolo, francese, italiano e turco (2002).
– The Burning City – scritto in collaborazione con Joaquin Dorfman (2003);
– Manifesto for Another World: Voices from Beyond the Dark (2004);
– Desert Memories: Journeys through the Chilean North (2004);
– Other Septembers, Many Americas: Selected Provocations 1980-2004.
Teatro
——
– Mascara
– Picasso's Closet
– The Other Side
– Purgatorio
– Death and the Maiden
– Dancing Shadows
– Who's Who
– Widows
– Reader
– Speak Truth to Power. Che Dorfman sia un fiero attivista dei diritti umani non è una novità. Chi altri poteva dunque firmare l'adattamento teatrale dal romanzo di Kerry Kennedy? La piece è dedicata e ispirata a tutti i grandi difensori dei diritti umani. Nella rappresentazione statunitense parteciparono nomi importanti quali Kevin Kline, Sigourney Weaver, Alec Baldwin, Alfre Woodard, Julia Louis-Dreyfuss, Rita Moreno, Hector Elizondo, Giancarlo Esposito, Lynn Redgrave, Sean Penn, Robin Wright Penn, Woody Harrelson, Martin Sheen, Kenny Leon, Fisher Stevens, Bob Herbert e Paege Cleage. Le musiche della versione americana sono di Jackson Browne, Hugh Masekela, The Indigo Girls e The Spellman Choir.
Quest'opera giunse in Italia nel 2006 in una versione curata da Lucio Dalla.
– Naciketa, opera che debutterà in India nel 2013