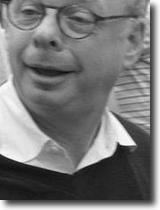 Wallace Shawn
Wallace Shawn è un attore e drammaturgo americano. Nato nel 1943 da una famiglia ebrea di New York, si è laureato in Storia all'Università di Harvard, per poi studiare Economia e Filosofia a Oxford, con l'intenzione di intraprendere la carriera di diplomatico, è stato anche in India dove ha insegnato inglese.
Il suo coinvolgimento con il teatro comincia nel 1970 quando Shawn conosce Andre Gregory, che da allora ha diretto diverse sue opere.
Shawn ha fatto il suo debutto cinematografico nel 1979 in Manhattan di Woody Allen (nel quale impersonava l'ex marito di Diane Keaton).
Da allora la sua è stata una carriera in crescendo come attore di teatro, di cinema e di televisione.
Wallace drammaturgo risulta spesso controverso e le sue opere sono cariche di significati politici: ricordiamo, tra le tante opere, Marie and Bruce (1978), My Dinner with Andre, il famoso Aunt Dan and Lemon (1985), The Designated Mourner (1997), il monologo The Fever, e l'ultimissimo Grasses of a Thousand Colors (2008). Molte sue opere sono state adattate per il cinema e per la televisione.