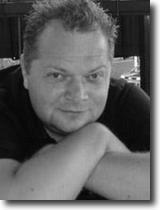 (Immagine per gentile concessione di
www.lastminute.com)
Peter Quilter
Peter Quilter drammaturgo inglese, attualmente residente alle Isole Canarie, le cui opere sono state tradotte in 14 lingue e rappresentate in più di 20 paesi in tutto il mondo: è rappresentato in città quali Londra, Praga, Cape Town, varsavia, Amsterdam, Montreal, Toronto, Chicago, Copenhagen, Auckland e Sydney.
Ha iniziato la sua carriera come presentatore televisivo sulla BBC. La sua prima commedia fu una piece tutta al femminile intitolata Curtain Up! (pubblicato dalla Samuel French). Segue un musical ispirato al Fantasma di Canterbury di Oscar Wilde che venne portato in tour con grande successo da Ron Moody in Gran Bretagna.
L'anno seguente Quilter fece il suo debutto al West End di Londra con un musical sull'industria pop delle Boy Band. Lo spettacolo debuttò nella stagione estiva al Gielgud Theatre di Shaftesbury Avenue ed in seguito venne replicato con grande successo in Sud Africa, Danimarca e venne riproposto in più di 60 tour diversi nei Paesi Bassi.
Nel 2005 Peter conosce il suo primo grande successo internazionale con End of the Rainbow, un musical drammatico sugli utlimi mesi di vita dell'attrice Judy Garland. L'opera conquista il clamore della critica persino al Sydney Opera House in Australia (premiando le due protagoniste con il Caroline O'Connor Awards). La stessa opera è stata presentata e premiata poi durante il Festival di Edimburgo nel 2006. L'anno seguente Joop van den Ende ha riproposto il musical in una nuova produzione tedesca che ha registrato il tutto esaurito nei suoi sette mesi di tour, ispirando successivamente produzioni nella Repubblica Ceca, Finlandia, Polonia e Nuova Zelanda.
Anche il musical Glorious! ha debuttato nel 2005, con la sua prima assoluta al Duchess Theatre del West End, protagonista l'attrice comica Maureen Lipman, prodotto da Michael Cordron. Glorious! racconta le comiche e altrettanto commoventi vicende di Florence Foster Jenkins, la peggiore cantante del mondo. Questa commedia musicale è stato un successo immediato, replicato a Londra per sei mesi, è stato rappresentato per oltre 200 serate. Ha inoltre ottenuto la nomination come Miglior Commedia ai Laurence Olivier Award.
Glorious! ha debuttato anche in Nord America al Calgary Theatre (protagonista Nicola Cavendish). La sua prima produzione in lingua straniera è stata fatta presso l'Helsinki City Theatre, con il titolo Suurenmoista!. Al momento è in scena contemporaneamente in più città europee ed americane: dalla Germania al Canada, dalla Polonia agli Stati Uniti. Nel 2008/2009 viene portata in tour anche in Italia.
Tra i suoi lavori, ricordiamo anche la sceneggiatura The Coogan Act che è stata recentemente acquistata dalla TV polacca con il titolo Rodzinny Show.
L'ultima opera teatrale di Peter è 4000 Days.
Per informazioni e news, il sito ufficiale di Peter Quilter è: www.peterquilter.net