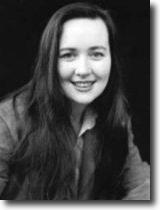 Marina Carr
Marina Carr nasce il 17 Novembre del 1964 nella contea di Offaly e studia all'University College di Dublino.
La Carr è cresciuta con l'Abbey Theatre di oDublin, e le sue opere sono un misto tra la tragedia domestica dell'Irlanda rurale e la riscrittura di classici.
Nel 1997 ha vinto il Susan Smith Blackburn Prize.
Trale sue opere ricordiamo:
– The Mai (1994), che ha vinto come Best New Play al Dublin Theatre Festival;
– Portia Coughlan (1996);
– On Raftery's Hill (2000);
– Ariel (2002);
– Woman and Scarecrow (2006).
Nel febbraio della 2009 Carr ha presentato le sue due ultime opere a Dublino:
– Marble (all'Abbey Theatre),
e l'opera per bambini The Giant Blue Hand.