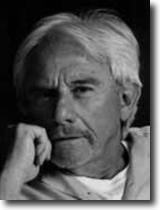 (Immagine per gentile concessione di
www.joepintauro.com)
Joe Pintauro
Joe Pintauro nasce a Ozone Park (New York) il 22 novembre 1930. Dopo aver studiato al Manhattan College, consegue una laurea in letteratura americana alla Fordham University, quindi una laurea breve in Filosofia al Saint Jeromes College (Ontario), dopo di che, frequenta per quattro anni la facoltà di Teologia alla Niagara University. Fin dagli esordi, i suoi libri di poesia (divenuti 10 nel tempo) sono pubblicati dalla Harper & Row anche in collaborazioni con artisti quali Corita Kent e Norman Laliberte. Pintauro è autore anche di racconti e romanzi: va ricordato il quartetto intitolato Rainbow Box. Lavora per otto anni come pubblicitario per la Young and Rubicam.
I suoi tre atti unici sulla vita degli italo-americani a New York, intitolati Cacciatore, fu il suo primo grande successo di critica. Snow Orchid, la sua prima opera lunga, venne in seguito prodotta con Olympia Dukakis, Peter Boyle e Robert Lupone al Circle Rep. L'opera venne portata poi in scena a Londra da Jude Law e Paola di Ognisotti. La sua predilezione per l'atto unico ha dato vita a molte opere come American Divine messo in scena a Chicago e Moving Targets in scena al Vineyard Theatre di New York.
Tra le opere in due atti ricordiamo Beside Herself interpretato da William Hurt, Lois Smith, Calista Flockhart e Melissa Joan Hart; Raft of the Medusa che andò in scena prima al Minetta Lane e poi al Gate (Notting Hill) di Londra (con il titolo Salvation). Men's Life è un adattamento del libro di Mattheissen, opera scelta per l'inaugurazione del Bay Street Theatre a Sag Harbor. The Dead Boy sulla fede e sul trauma subìto oggi dal clero cattolico, è stato un lavoro di laboratorio per il Royal Court di Londra sotto la guida di Stephen Daldry e nuovamente con Ian McKellen. Pintauro ha diretto quest'opera nella versione tedesca nei Paesi Bassi con il titolo Dode Jongen, con Anton Lutz. L'opera venne presentata nella sua forma definitiva nel 2004 con Roy Scheider e Mercedes Ruehl.
La raccolta dei suoi 40 atti unici intitolata Metropolitan Operas (portata in scena a New York dalla Dramatists Play Service) è stata poi rappresentata in giro per il mondo in varie lingue: vogliamo ricordare anche la trasposizione in forma di Commedia dell'Arte, a Venezia, con Carla Poli.
La trilogia By the Sea, By the Sea, By the Beautiful Sea in collaborazione con Terrence McNally e Landfrod Wilson, è stata messa in scena per The Bay Street Festival e in seguito per The Manhattan Theatre Club. Heaven and Earth, un'opera sulla vita contadina americana, è anch'essa prodotta dalla Bay Street e venne diretta da Jack Hofsiss.
Pintauro ha inoltre sceneggiato Beautiful Dreamer, un film sulla guerra civile e sull'unica donna ad aver mai ricevuto la Congressional medal of Honor.